What's The Best Podcast App for iPhone in 2023
Updated at
In this article, we'll explore the top podcast apps for iPhone in 2023, helping you enjoy a rich and enjoyable listening experience on your device.
Which Podcast App Is Best For iPhone In 2023
In today's digital age, podcasts have become a popular and powerful medium of communication, allowing listeners to discover and be exposed to many different types of content. For iPhone owners, choosing the right podcast app is an important part of enjoying the best podcast listening experience. Here is a list of the best podcast apps for iPhone in 2023, based on popularity, features, and user experience.
1. Apple Podcasts: Editor's Pick
Apple Podcasts is not only a familiar podcast application on the iOS system, but also offers a flexible podcast listening experience and is compatible with all Apple devices. The app automatically recommends content based on the user's location and interests, from international podcasts to local content.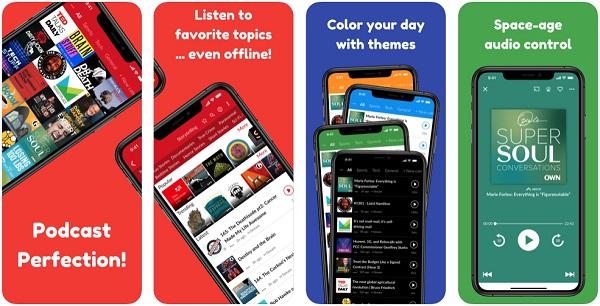 With the ability to download and listen offline, Apple Podcasts helps you save data and easily listen to the latest episodes of your favorite shows. Social interaction and sharing integration makes it easy to connect and share podcasts with friends.
2. Spotify: Mixing Music and Podcasts
Spotify is not only a leading music streaming service but also a powerful podcast platform. With a wealth of content, you can easily discover shows and podcasts in a variety of genres. The ability to create playlists and download content lets you enjoy a customized and data-saving experience.
Spotify offers paid plans with advanced features and ad-free streaming, ensuring that you have a seamless and uninterrupted podcast listening experience.
3. Google Podcasts: Customization Based on Interests
Google Podcasts offers a customized experience based on a user's interests and search history. This app recommends suitable content and allows you to download episodes for offline listening. The ability to block inappropriate content and integration with Google tools help you control content easily.
4. Pocket Casts: Customize and Organize
Pocket Casts creates a customized and organized podcast listening experience through an optimized interface. Smart search and filtering allows you to easily find programs of your interest. The ability to download and listen offline, along with cross-device syncing, keeps your experience going wherever you are.
5. Overcast: Diversity Add-ons and Download Management
Overcast features a unique interface and the ability to add podcasts from an RSS feed.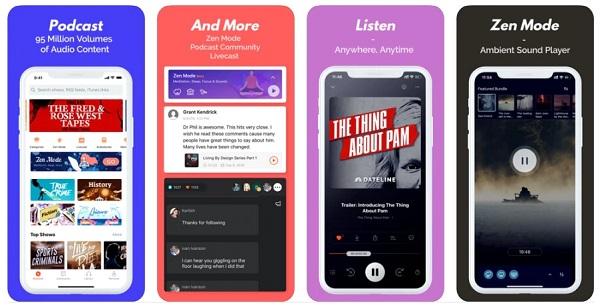 Automatic downloads and download management help you maintain your listening experience without consuming data. Optional sleep timer and integration with Siri for convenience and smart interaction.
6. Audible: Podcasts and Audiobooks
Audible is more than just a podcast app, it brings you the best audiobooks. Cross-device syncing and streaming from the iOS book app give you the flexibility to enjoy audiobooks and podcasts. The ability to experience premium content templates helps you decide before you sign up.
Summary
Based on the list of apps we've reviewed, each has its own strengths, tailored to different user needs and preferences. Apple Podcasts is a good choice for those willing to explore diverse content and use Apple devices. Spotify offers a mix of music and podcasts, while Google Podcasts focuses on customizing content based on personal taste.
If you love customization and organization, Pocket Casts is an attractive choice, and Overcast offers intelligent download management. If you want to combine both audiobooks and podcasts, Audible is an option worth considering.
In short, choosing the right podcast app is an individual process, based on each person's preferences and needs. Based on this list, you can confidently choose the best podcast app for your iPhone, to enjoy enjoyable and rewarding listening experiences in 2023.