How to Transfer Data From Android to iPhone
Updated at
Preparing to switch from an Android device to an iPhone? This article will guide you through each detailed step to transfer data easily and effectively, ensuring that all important information will be transferred smoothly and securely.
Transfer Data From Android to iPhone: Detailed and Effective Instructions
This article provides a detailed guide on how to transfer data from Android device to iPhone easily and efficiently. With the continuous evolution of mobile technology, the switch from Android to iOS operating system is more popular than ever. This guide provides information on preparation steps before transferring data, along with common data transfer methods such as using the Move to iOS app, AnyTrans, and Google.
Transferring data from Android device to iPhone is an important process when you decide to switch from one operating system to another. Users need to prepare carefully before doing so, make sure the phone is fully charged and have a stable Wi-Fi connection to ensure smooth data transfer.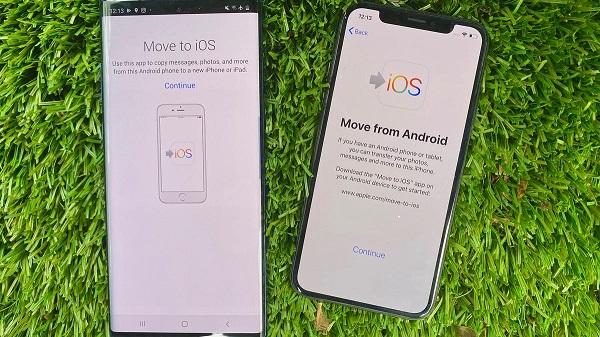 Here are specific instructions on how to do this based on the documentation provided.
Step 1: Prepare before transferring data:
Make sure your Android phone is fully charged to avoid data transfer interruption.
Connect to a stable Wi-Fi network, as data will be transmitted over Wi-Fi waves.
Check that your iPhone has enough space to hold the converted data.
Backup your Android phone data to Google Cloud Drive for safety.
Step 2: Using the Move to iOS app:
Start the iPhone device and perform the initial setup process.
During the installation process, you will come across the "Apps & Data" screen.
Tap "Manual Setup" and follow the instructions to continue.
Select "Migrate Data from Android" in the Apps & Data preferences.
Step 3: Using the Move to iOS app:
On an Android phone, go to the Google Play Store and search for the "Switch to iOS" app.
Download and install the Switch to iOS app, then launch it.
Continue through the start screens and agree to the terms and conditions.
A code will appear on the Android screen. Remember this code.
Step 4: Connect two devices:
On the iPhone device, continue past the "Migrate from Android" screen.
Enter the code you received from your Android device.
Step 5: Connect via temporary network:
The iPhone device will create a temporary Wi-Fi network. Select this network on your Android device.
Step 6: Select the data to transfer and wait:
On Android devices, select the types of data you want to convert to iPhone (ex: contacts, messages, photos, videos, ...).
Click "Next" to start the data transfer process.
When the process is complete, tap "Done" on the Android device.
Step 7: iPhone setup is complete:
Continue to follow the onscreen instructions to complete your iPhone setup and activation.
Once completed, the converted data will appear on iPhone.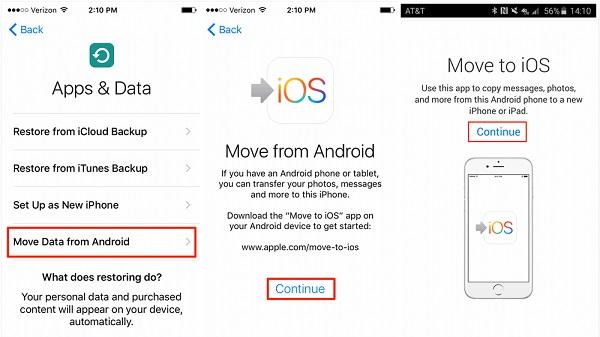 Note: The Move to iOS method only supports transferring contacts, messages, camera photos and videos, mail accounts, and calendars. If you want to convert other data or find another method, you can use AnyTrans application or do a data transfer via Google.
Summary
The article provides detailed instructions on using the Move to iOS application, which helps users to move data from Android to iPhone in a few simple steps. In addition, the article also mentions the support of AnyTrans application, a more powerful tool for transferring data between the two platforms, along with how to use a Google account to transfer data.
Important considerations mentioned in the article include the ability to transfer specific types of data, such as contacts, messages, photos, and videos, as well as time considerations and the availability of each method. The article provides an overview of how to proceed with the data transfer process, helping readers better understand the choices and challenges when switching from Android to iPhone. Based on the information in the article, readers can choose the most suitable method for their needs and situations.
In summary, transferring data from Android to iPhone can be done through many different methods, with each method having its own advantages and limitations. Based on your needs and situation, you can choose the right method to make the data transfer easy and efficient.