How to set OOO in Teams Mobile App
Updated at
With the "Out of Office" feature on Microsoft Teams, you can enjoy peaceful breaks after work. Plus, with autoresponders, you won't need to worry about teammates or customers wondering why you can't reply to their messages.
How to set Out of Office in Teams: Detailed Instructions
Are you learning how to manage out of office status on Microsoft Teams? This article will walk you through step-by-step instructions for setting up absenteeism, helping you to intelligently and efficiently notify colleagues and customers of your absence. From desktop settings to mobile apps, you'll find simple ways to adjust your status and even set up smart autoresponders. With detailed and clear instructions, you will confidently manage your time off without worrying about communicating in the process. No more worrying about missing important information - Microsoft Teams has given you the freedom to enjoy a moment of relaxation and rest after stressful working hours.
In the process of working, there are times when we need time to rest, recharge or deal with personal matters. Microsoft Teams has helped us manage this intelligently with the "Out of Office" feature. Here are detailed instructions on how to set this status to let colleagues and customers know you are absent.
Set Out of Office Status on Microsoft Teams (Desktop App)
Through Your Profile:
Open the Microsoft Teams app on your computer.
Select the organization or group for which you want to change the status.
Click the profile picture in the top right.
Select "Set status message".
In the pop-up, click "Schedule Out of Office".
Turn on the option "Enable automatic replies".
Enter your out of office message.
Option to enable automatic replies for people outside the organization.
Set the message and automatic reply time.
Click "Save".
Via Microsoft Teams Settings:
Open Microsoft Teams and tap the three-dot menu next to the profile picture.
Select "Settings".
Select "General", then "Schedule".
Turn on "Out of Office".
Follow steps 6 through 12 of the instructions above.
Set Out of Office in Teams Mobile app Android/iPhone
While it's not possible to set the out of office autoresponder on the mobile app, you can change your status dynamically: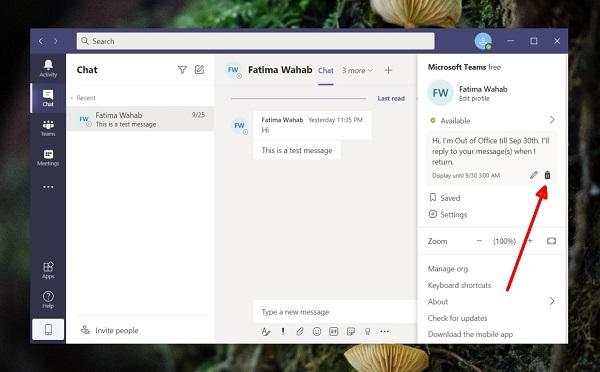 Open the Microsoft Teams app on your phone.
Tap your profile picture in the upper left corner of the screen and select "Set status message".
Add status messages and set display time.
Press "Done".
Remove Out of Office Status on Microsoft Teams
When you want to switch back to the normal state, follow these steps:
Go to "Set status message" from your profile or through general settings.
Turn off auto-reply and tap "Save".
In short, the "Out of Office" feature on Microsoft Teams helps you effectively manage your time off. By using smart autoresponders, you can ensure that your colleagues and customers know about your current status without worrying about missing out on important information.