Clash Royale: 10 Tips For Beginners
Updated at
Clash Royale is a popular and exciting strategy game on mobile, and for starters, there can be some challenges. To help you explore the world of Clash Royale and get a better grasp of how to play.
Clash Royale: 10 Tips For Beginners
Clash Royale, a real-time strategy game from Supercell, has attracted millions of players worldwide since its launch. Named Game of the Year from Apple and Google Play's Best Game, Clash Royale has proven its huge appeal. With a unique combination of card collecting and direct confrontation with other players, the game offers intense and dramatic matches.
For starters, navigating the world of Clash Royale can be daunting. No need to worry, though, as we are ready to give you 10 useful tips to help you become a successful fighter in Clash Royale:
Spend Gold Wisely:
Gold is the most important resource in Clash Royale. Use gold wisely to upgrade important troops and create variety in your deck.
Furthermore, consider before buying gold from the in-game store. Make sure that you really need and will use the gold effectively. If possible, find a way to earn gold through challenges and tournaments to save resources.
Build a balanced deck:
Create variety in your deck by combining high and low cost Elixir troops, as well as ground and air. This helps you have more options available during combat and creates a balance in the game.
In Clash Royale, building a well-balanced deck is key to success. Make sure your deck has a variety of troops and Elixir costs. Combine high and low Elixir troops, ground and air for a variety of tactical options. This helps you adapt to any situation and creates a balance between attack and defense. Check and adjust your deck regularly to make sure it suits your playing style and responds to changes in the meta.
Use Skeleton attack:
The Skeleton Army can become an effective weapon when used properly. Use them to launch a surprise attack or to defend against an enemy attack.
Using the Skeleton attack is an effective strategy in Clash Royale. Whether using Skeleton Army or Skeletons, they can create a distraction and make a powerful attack. Combine them with stronger armies like Giants or Giants to create unstoppable attacks. In addition, Skeletons can also be used to defend and block the enemy's advance. Use your Skeleton attack wisely to gain an advantage in battle.
Test new decks in training battles:
Before engaging in duels with other players, test out your new decks in training battles. This helps you familiarize yourself with the use of the cards and refine your strategy.
Testing out new decks in training battles is a great way to sharpen your skills and familiarize yourself with new tactics. You can experiment and tweak your deck without worrying about losing trophies or trophies. This helps you understand how the cards work together and find the best combination for maximum effect in real match. Get ready to test and improve your skills through training battles.
Don't attack first:
Be patient and wait until you have enough Elixir before attacking. This helps you keep the Elixir advantage and shape the fight to your liking.
Don't rush ahead is an important piece of advice in Clash Royale. Instead of rushing into the attack, wait patiently to accumulate Elixir and see how the enemy deploys his army. By defending and dealing smart, you can take advantage of Elixir and build a stronger attack, surprising and vulnerable enemies. Focus on the right timing and strategy to attack effectively.
Do not rush to attack:
Avoid attacking too many troops at the same time, build a reasonable strategy and use the army correctly. Consider each move and use it to your advantage.
Don't rush to attack in Clash Royale is an important piece of advice. Instead of rushing into an attack without a plan, wait patiently and build an Elixir advantage. Take a close look at the enemy's army and tactics before attacking. By cleverly using Elixir and reacting quickly, you can effectively defeat your enemies and win.
Use magic frequently:
Spells like Freeze and Rage can give a big advantage in a match. Use them smartly to change the game and surprise your enemies.
Using magic regularly is an important tactic in Clash Royale. When you have spells on hand, use them wisely to change the game. Freezing can help you control the enemy and facilitate the attack. The spell "Rage" can increase the speed and damage of the army, helping you to destroy the enemy quickly. Understanding how to use magic will give you an advantage in battle.
Take part in challenges and tournaments:
Participating in challenges and tournaments is a great way to earn gold and cards to upgrade. This is your chance to showcase your talent and win exciting rewards.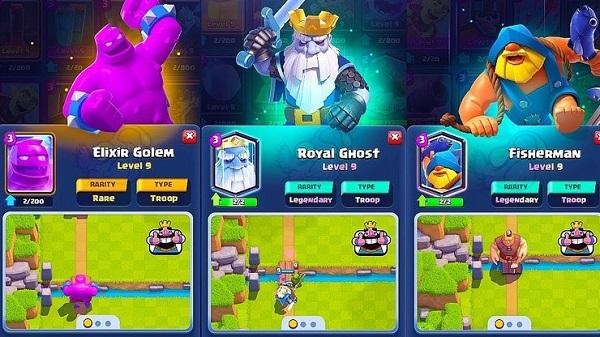 Participating in challenges and tournaments is a great way to improve your skills and earn lots of rewards in Clash Royale. The great challenge can yield hundreds of cards and gold, providing the opportunity to upgrade your army. Participating in the tournament also helps you achieve higher titles and get valuable chests. Don't be afraid to join, take this opportunity to become a powerful warrior in Clash Royale.
Update game information:
To succeed in Clash Royale, stay up to date with the latest information about the game. Follow the latest updates and changes from the developer to understand the changes in balance, troops and tactics. This helps you adjust your deck and strategy to take advantage of the improvements and avoid negative changes. Make sure you stay up to date to stay successful in Clash Royale.
Learn from the match:
Observe and learn from your own matches as well as from other players. Analyze tactics and evaluate your strengths and weaknesses to improve your playing skills.
One of the best ways to improve your skills in Clash Royale is to learn from each match. Review your matches and learn the good decisions and mistakes. Analyze your formations, tactics and reactions as well as those of your opponents. This helps you better understand the interactions between armies and how to improve your strategy. Learn from the battle and apply those lessons to the next battle.
With the above tips, we hope that you will enter the world of Clash Royale with confidence and become a powerful warrior. Get ready for intense matches and be the winner in the arena!